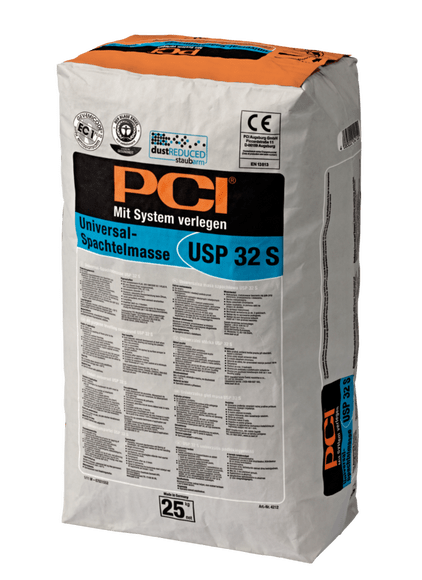 Areas of application
For indoor use.
Cementitious leveler for smoothing and leveling floors prior to the installation of
- textile flooring and resilient flooring,
- parquet flooring or laminate flooring to be bonded.
For producing smooth and level surfaces.
For leveling
- cementitious substrates
- calcium sulfate screeds
- magnesite screeds
- mastic asphalt screeds
- non-absorbent substrates.
For layer thickness from 0.5 to 40 mm; for parquet flooring or laminate flooring to be bonded from 2 to 40 mm; on mastic asphalt screeds from 2 to 5 mm.
It is possible to blend PCI USP 32 S with silica sand when layer thickness exceeds 20 mm, but it is not necessary.
Suitable for
- underfloor heating
- exposure to chair castors at a layer thickness of min. 1 mm.
Suitable for the use on ships; meets the requirements of Marine Equipment Directive (MED) 96/98/EC.
Product features
Very low emissions PLUS, GEV-EMICODE EC 1 PLUS.

Awarded the environmental label "Blauer Engel" due to low emissions (DE-UZ 113).

Low in chromates; Giscode ZP 1.

Dust reduced; low development of dust when opening, pouring and mixing the product.

Self leveling, can be applied by surface scraper in upright position.

Pumpable.

Walkable after approx. 2 hours.
Forms of delivery:
25-kg-bag
Consumption calculator
Your Result
Quantity Required * approx
corresponds
Your Result
Quantity Required * approx
corresponds
This consumption calculation included in the program contains approximate values based on experiences which might considerably vary upwards and also downwards depending on the structure of substrate, type of tiles, different profiles on the reverse sides, type of tiling tools, work method a.o. Calculations are therefore not allowed to be based on these values. In case of larger projects we recommend to assess the consumption by making a trial surface. Applications in the combined method (buttering-floating) increase the consumption by approx. 20 to 25%. In case of powder products the data relate to the consumption of dry powder for easier calculation of the material requirement.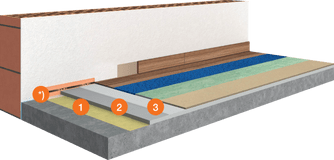 Universal laying system for electrically conductive flooring
Downloads
Declaration of performance EN 13813 (CT-C40-F7)
Classification report EN 13501-1 (A2fl-s1)
Combined with product:
PCI USP 32 S
Licensing GEV EMICODE (EC1 PLUS)
Combined with product:
PCI USP 32 S