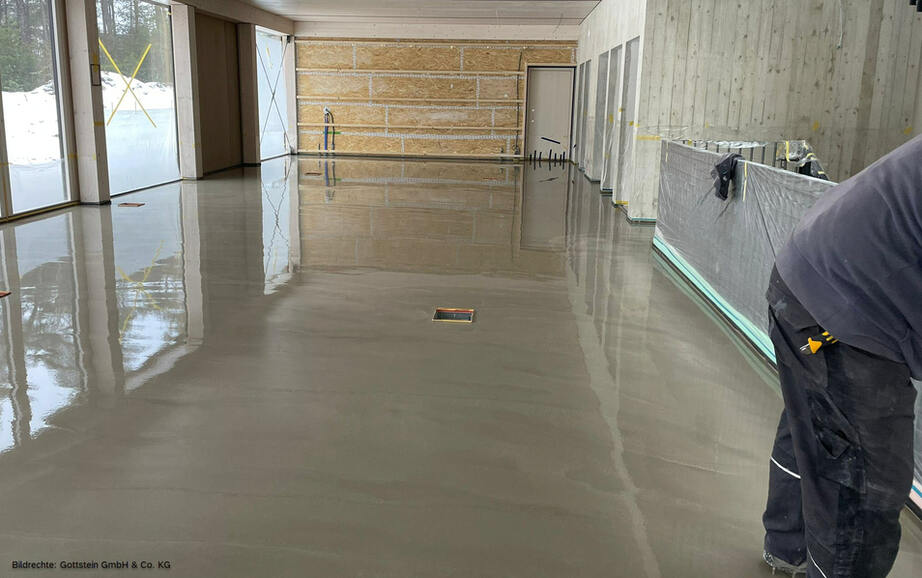 Sustainable from the bottom up
Exposed concrete in the company building: Urban concrete look with PCI Periplan Multi
Sustainable from the bottom up
Exposed concrete in the company building: Urban concrete look with PCI Periplan Multi
The floor surfaces in the new company building of Gottstein in Austria were to have an urban concrete look. This was achieved in just a few working steps with the very low-emission leveling compound PCI Periplan Multi.

Sustainability is an integral part of Gottstein's corporate philosophy. For four generations, the Tyrolean family business has been processing only natural materials for the production of shoes: wool from sheep, alpacas and yaks. For the new company building, Gottstein also attached great importance to ecologically harmless products. At the same time, the visual appearance played a major role: the floor surfaces were to have an urban concrete look. PCI Periplan Multi, PCI's leveling compound that can be used directly in dry interiors, was chosen for this purpose. PCI specialist advisers Roman Lorenz and Markus Reiter provided on-site support during planning and execution.

Very low-emission products

To ensure good adhesion of the exposed concrete to the substrate, PCI Gisogrund 404 was used at first: The special wash primer was applied - diluted 1:2 with water - on the cement screed in the Gottstein company building. PCI Gisogrund 404 is solvent-free according to TRGS 610 and - like the subsequent floor leveling compound PCI Periplan Multi - very low in emissions according to GEV-EMICODE EC 1 PLUS. Craftsmen benefit from the low-pollutant building materials during processing as well as the users of the rooms from a better indoor climate. Exposed concrete with PCI Periplan Multi is also sustainable because the floor is very durable due to its hard-wearing properties.

Fast installation, perfect result

The choice of product also scores when it comes to processing: Depending on the substrate, the leveling compound can be applied as early as 30 minutes after priming, or after around three hours at the latest. Processing is simple and requires only little work. Thanks to the self-leveling consistency, PCI Periplan Multi can be easily and effortlessly spread to the required layer thickness with a squeegee in upright position and then leveled and de-aerated with a suitable spiked roller. PCI Periplan Multi can also be applied by machine using the pump method which ensures fast progress especially on larger surfaces. PCI Periplan Multi is suitable for layer thicknesses from 3 to 40 mm, cures with low tension and prevents cracking. For permanent protection of the floor surfaces a final sealing of the leveling compound is recommended.

Important: During the processing and setting process, draft, strong heat and direct sunlight must be avoided. Then a perfect work result is guaranteed - as with the exposed concrete floor in the Gottstein company building.
Task
Exposed concrete in the company building: Urban concrete look with PCI Periplan Multi
Specialist advice
Roman Lorenz / Markus Reiter
Your contact for inquiries:
Download project report