Solvent-free construction adhesive for multiple applications
Construction adhesives are used in all applications where different components need to be joined to each other and other methods such as bolting or nailing are not desired or not feasible. These include friction-locked joints in above-ground and buried structures as well as the anchoring of loads.
In order to have the right product for any application, PCI developed the Barrafix® series with an epoxy adhesive and an anchoring mortar. With these products, you are outstandingly well-equipped for a wide variety of construction projects and benefit from solvent-free adhesives that are not harmful to the user. You can obtain further information on the wide range of possible applications on this website or from your local PCI adviser.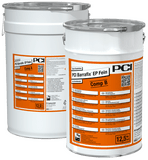 Epoxy construction adhesive for waterproofing tapes
---
Construction adhesives from the professional – the PCI Barrafix® series
The anchoring of medium and heavy loads poses special challenges for construction adhesives. To meet these requirements, PCI developed the ready-to-use construction adhesive PCI Barrafix® 920. This adhesive is easy to use with a standard sealant gun on both dry and wet surfaces, allowing a wide variety of applications in different environments – for example with drilled holes. Bolts, stud bolts, anchor bolts and other components can be anchored at low temperatures without any pressure caused by expansion. Other advantages of PCI Barrafix® 920 include low odor during use and very low shrinkage following curing.
Friction-locked joints with PCI epoxy construction adhesive
The two-component epoxy resin construction adhesive PCI Barrafix® EP is suitable for establishing friction-locked joints between concrete stones, slabs, pipes or prefabricated components and mortar in indoor and outdoor applications. Good resistance to sagging – even at higher temperatures – and the ability to withstand temperatures of up to 80°C for a short time are other advantages of the PCI construction adhesive.
PCI Barrafix® EP is a product that has been tested and certified as a construction adhesive for concrete mortar in accordance with EN 1501-4. The product is supplied in re-closable pails between 2 kg and 12.5 kg, allowing smaller portions to be removed safely and easily. The two components can be mixed manually or using a machine with good control of the mixing process.