Concrete impregnation for reliable surface protection
A concrete floor needs to be protected against water and gases which are harmful to concrete. Such protection prolongs the service life of building fabric and maintains a high-quality living environment. The use of concrete impregnation products to effectively seal the concrete surface and reduce surface porosity has proved to be an effective approach. In addition, concrete impregnation products prevent the carbonation of concrete; this also protects and maintains the quality of the building fabric.
For your concrete refurbishment project, you should use our innovative surface protection system which ensures successful concrete refurbishment and protects the substrate against dust, cracks or other damage. In addition, you can seal your concrete floor with hydrophobic agents and coatings. To find the right surface protection system for your requirements, just contact your local PCI adviser.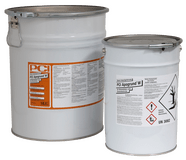 Sealing concrete floors with PCI Apogrund W
PCI Apogrund® W is an epoxy impregnation agent for concrete floors and cement screeds which improves the wear resistance of the substrate which has been treated. If you apply our transparent impregnation agent to your concrete floor, it will also prevent the floor and screed from releasing sand or dust. The water-based surface protection product has high penetration properties, leading to the creation of a consolidated surface.
However, before you apply PCI Apogrund W, the concrete floor must be clean, dry, firm, solid and absorbent. Any residues, paint or foreign matter must be removed using the right product, such as PCI Entöler oil stain remover for oil and grease residues. Any cracks or cavities should also be eliminated and sealed. You can then start work on impregnation; normally, two coats of impregnation agent should be applied.
The right concrete impregnation agent – it's the mixture that counts
Our concrete impregnation agents can be mixed using a drill with variable speed control. The hardening component is mixed with the base component and stirred for about one minute. You can then set the mixture consistency required by adding water. Constant stirring is required when water is added. PCI recommends that water corresponding to about 20 to 40% of the original product weight should be added. When applying the impregnation agent, it is important to avoid puddles and to apply the product evenly in portions.