PCI Apokor

®

W
Epoxy sealer
for concrete floors, asphalt screeds and cement screeds

Epoxy sealer
for concrete floors, asphalt screeds and cement screeds
Areas of application
For indoor and outdoor use.
For the production of colored finishes resistant to wear and chemicals for concrete floors and cement screeds. Mastic asphalt screeds for indoor use only.
For floors in manufacturing areas and warehouses subject to light to medium mechanical loads; can be exposed to vehicles with pneumatic tyres.
For areas subject to moderate chemical exposure.
Product features
Solvent free, no harmful risk to environment and operative caused by solvent vapors. No danger of explosion or fire, no harmful vapors.
Impermeable to water, resistant to weather conditions and aging.
Resistant to wear, medium abrasive load and rolling load.
Chemical resistant, protection against a variety of acids, alkalis, oil and other chemicals (see "Chemical Resistance").
Easy to apply due to good flow properties.
Lightfast, low tendency to yellowing.
Can be diluted with water.
Colors:
ca. RAL 7030 stone grey, ca. RAL 7032 kieselgrau, transparent, ca. RAL 7030 steingrau
Forms of delivery:
20-kg-set/ 16,67-kg-pail/ 3,33-kg-pail/ 5-kg-pail
Colors


Consumption calculator
Your Result
Required quantity of order twice about
corresponds
This consumption calculation included in the program contains approximate values based on experiences which might considerably vary upwards and also downwards depending on the structure of substrate, type of tiles, different profiles on the reverse sides, type of tiling tools, work method a.o. Calculations are therefore not allowed to be based on these values. In case of larger projects we recommend to assess the consumption by making a trial surface. Applications in the combined method (buttering-floating) increase the consumption by approx. 20 to 25%. In case of powder products the data relate to the consumption of dry powder for easier calculation of the material requirement.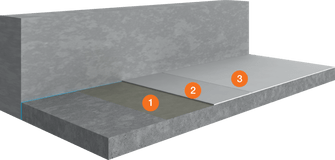 System for the refurbishment and coating of floor surfaces exposed to mechanical loads and chemicals
Downloads
Declaration of performance EN 1504-2
Classification report EN 13501-1 (Bfl-s1)
Combined with product:
PCI Apokor® W