PCI Apoten

®

OS FB
PUR membrane, 2 components
for surface protection system OS 11b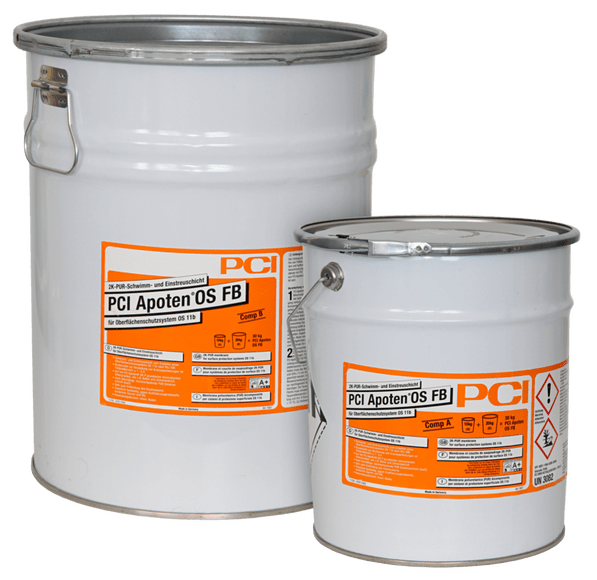 PUR membrane, 2 components
for surface protection system OS 11b
Areas of application
For indoor use.
Membrane to produce a surface protection system OS 11b in accordance with RiLi SIB (guideline for protection and repair of concrete elements).
Binding agent to produce a scratch coat with a filling level ≤ 1 : 0.4.
On mineral substrates such as concrete and cement screed primed with PCI Apoten OS P.
Important note:
Effective August 24, 2023, an appropriate training must be carried out before use (applies only to EU countries).
More information on the training courses is available here
www.pci-augsburg.eu/pu-product-training
.
Product features
Solvent free according to TRGS 610.
Good self-leveling properties, highly efficient.
Highly flexible as a floating layer.
Very good embedding properties of the scattered grain.
Chemical resistance against motor vehicle fuels, diluted acids and oil.
Classified within the system in accordance with DIN EN 13813 and EN 1504-2.
Colors:
transparent, approx. RAL 7032 Pebble Grey
Forms of delivery:
30-kg-set/ 10-kg-pail/ 20-kg-pail
Colors


Flexible surface protection system for refurbishing and coating floor areas in parking garages
Downloads
Declaration of performance EN 1504-2, EN 13813