PCI Apoten

®

OS TC
Epoxy coating, two components
for surface protection systems OS 8 and OS 11b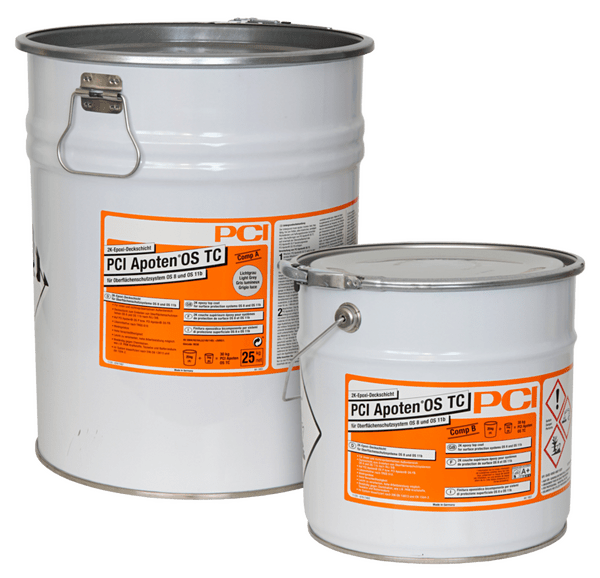 Epoxy coating, two components
for surface protection systems OS 8 and OS 11b
Areas of application
For indoor and non-representative outdoor areas.
Top layer to produce surface protection systems OS 8 and OS 11b in accordance with RiLi SIB (guideline for protection and repair of concrete elements).
On PCI Apoten OS P and/or PCI Apoten OS FB.
Product features
Solvent free to TRGS 610.
Low viscous.
Highly wear resistant.
Easy to apply, high output possible.
Resistant to chemicals such as motor vehicle fuels, de-icing salt and battery acids.
Classified within the system in accordance with DIN EN 13813 and EN 1504-2.
Forms of delivery:
30-kg-set/ 25-kg-pail/ 5-kg-pail/ 28,25-kg-set/ 23,25-kg-pail

For mechanically stressed entrance and exit ramps indoors and outdoors

Heavy-duty surface protection system for refurbishing and coating floor areas in parking garages

Flexible surface protection system for refurbishing and coating floor areas in parking garages
Downloads
Declaration of performance EN 1504-2, EN 13813
Declaration of performance EN 1504-2, EN 13813