PCI Barrafix

®

EP Fein
Epoxy construction adhesive
for waterproofing tapes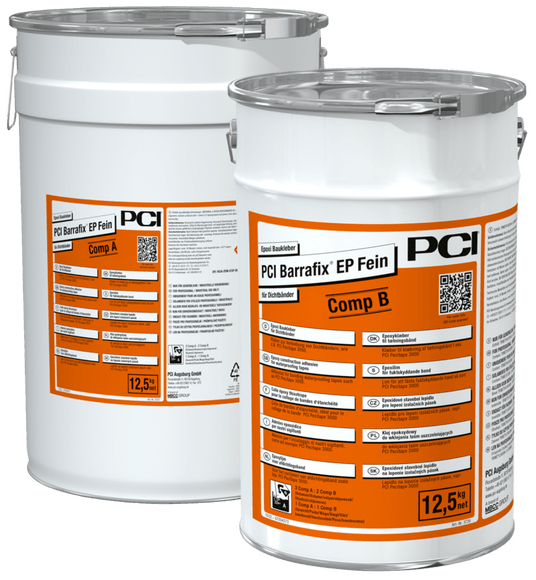 Epoxy construction adhesive
for waterproofing tapes
Areas of application
For indoor and outdoor use.
Bonding of PCI Pecitape 3000 waterproofing tape.
Product features
2-component.
Fine grading curve, therefore thinly spreadable.
Low odor.
Free of solvent and nonylphenol.
Easy to mix by hand or machine.
Good mixing control.
Easy removal of partial quantities thanks to resealable containers.
High bond strength.
Can be used on dry to slightly damp substrates.
Good non-sag properties, even at higher temperatures.
Impact resistant and durable.
Temperature-resistant (short-term) up to + 80 °C.
Resistant to water and wet abrasion.
Forms of delivery:
25-kg-set/ 12,50-kg-pail
Consumption calculator
Your Result
Quantity Required approximately
corresponds
This consumption calculation included in the program contains approximate values based on experiences which might considerably vary upwards and also downwards depending on the structure of substrate, type of tiles, different profiles on the reverse sides, type of tiling tools, work method a.o. Calculations are therefore not allowed to be based on these values. In case of larger projects we recommend to assess the consumption by making a trial surface. Applications in the combined method (buttering-floating) increase the consumption by approx. 20 to 25%. In case of powder products the data relate to the consumption of dry powder for easier calculation of the material requirement.