PCI BT 21
»All-weather« waterproofing membrane
Cold-applied, self-adhesive membrane for the reliable waterproofing of buildings, down to –5 °C

»All-weather« waterproofing membrane
Cold-applied, self-adhesive membrane for the reliable waterproofing of buildings, down to –5 °C
Areas of application
For waterproofing vertical and horizontal surfaces, indoors and outdoors, on the positive side:
For waterproofing basement walls and floor slabs in contact with the soil to protect them against moisture in the soil and non-standing seepage water (exposure in accordance with DIN 18533-2 W1.1-E and W1.2-E).
For waterproofing flat garage roofs which cannot be walked on (with a slope of at least 2% and additional protective layer, e.g. gravel) and for waterproofing retaining walls in landscape gardening.
For waterproofing against capillary rising moisture and as a water vapor barrier under screeds.
For L-shaped or Z-shaped waterproofing layers in double-leaf brickwork. DIN 18533-2 W4-E (application type MSB-nQ).
For waterproofing walls and floors according to DIN 18534-2 in the water exposure classes W0-I to W2-I.
For waterproofing construction/butt joints and cross-sections of controlled cracks in concrete components with high water penetration resistance in the area in contact with the ground, even with positive water pressure of up to 3 m water column (strip-shaped waterproofing with official test certificate for joint seals for elements, e.g. made of waterproof concrete.
Product features
For cold-applied processing down to –5 °C.
Equipped with adhesive strips on both sides for extra reliability.
Also for use on damp substrates if used as a system with BT primers.
Immediately impervious to water and driving rain.
Flexible and crack-bridging.
Forms of delivery:
15-m-roll/ 5-m-roll
Consumption calculator
Your Result
Quantity Required approximately
corresponds
This consumption calculation included in the program contains approximate values based on experiences which might considerably vary upwards and also downwards depending on the structure of substrate, type of tiles, different profiles on the reverse sides, type of tiling tools, work method a.o. Calculations are therefore not allowed to be based on these values. In case of larger projects we recommend to assess the consumption by making a trial surface. Applications in the combined method (buttering-floating) increase the consumption by approx. 20 to 25%. In case of powder products the data relate to the consumption of dry powder for easier calculation of the material requirement.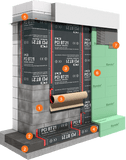 System for waterproofing buildings in accordance with DIN 18533 W1 and W4 with cold-applied self-adhesive membranes
Downloads
Declaration of performance EN 13969 EN 14967