PCI Carraroc

®
Bedding mortar
for laying and setting natural stones

Bedding mortar
for laying and setting natural stones
Areas of application
For indoor and outdoor use.
For laying natural stone slabs in the thick-bed method.
For setting natural stones.
For fixing natural stone walls and curbs.
For setting stair steps.
Mortar bed thickness 5 - 40 mm.
Product features
Contains trass, for reduced lime efflorescence.
Variably adjustable, can also be used as a contact layer.
Wear resistant, permanently resistant to weathering and mechanical loads.
Variably adjustable consistency.
Resistant to frost and de-icing salt.
Very low emissions, GEV-EMICODE EC 1 PLUS.
Forms of delivery:
25-kg-bag
Consumption calculator
Your Result
Quantity Required approximately
corresponds
This consumption calculation included in the program contains approximate values based on experiences which might considerably vary upwards and also downwards depending on the structure of substrate, type of tiles, different profiles on the reverse sides, type of tiling tools, work method a.o. Calculations are therefore not allowed to be based on these values. In case of larger projects we recommend to assess the consumption by making a trial surface. Applications in the combined method (buttering-floating) increase the consumption by approx. 20 to 25%. In case of powder products the data relate to the consumption of dry powder for easier calculation of the material requirement.
Building pros also use:

Flexible two-component reactive waterproofing membrane for external basement walls, foundations and concrete elements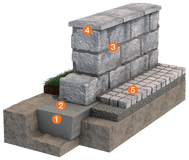 System for attractive, durable garden walls
Downloads
Declaration of performance EN 998-1 (GP CS IV)
Sustainability data sheet
Natural talents: The PCI Carra line
Licensing GEV EMICODE (EC1 PLUS)
Combined with product:
PCI Carraroc®