PCI Dichtungsmittel flüssig
Mortar additive fluid
for cement screeds, renders, masonry mortars and joint grouts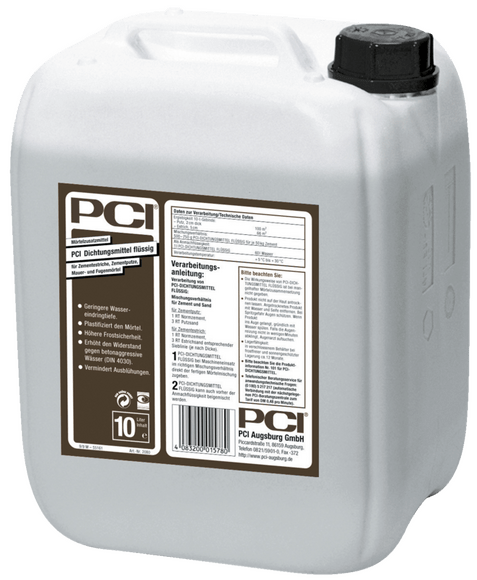 Mortar additive fluid
for cement screeds, renders, masonry mortars and joint grouts
Areas of application
For indoor and outdoor use.
Mortar additive for render and gauged render.
For producing cement mortar and cement screed with reduced absorption of water and low penetration depth of water, with plasticising properties.
Also suitable for a heated screed.
Product features
Lower penetration depth of water; water-impermeable screed and render can be produced.
Plasticising properties, better workability and easier application of screed, render, mortar and joint grout.
Helps improve frost resistance, less damages to screed, render and joint grout for masonry caused by frost.
Helps improve resistance to water aggressive against concrete (see also DIN 4030-1).
Helps reduce efflorescence, unsightly staining is reduced or even prevented.
Chloride free, no ingredients which stimulate corrosion according to the test report issued by Forschungs- und Materialprüfanstalt Baden-Wurttemberg (Research and Material Testing Institute Baden-Wuerttemberg).
Forms of delivery:
5-l-canister
Consumption calculator
Your Result
Quantity Required approximately
corresponds
This consumption calculation included in the program contains approximate values based on experiences which might considerably vary upwards and also downwards depending on the structure of substrate, type of tiles, different profiles on the reverse sides, type of tiling tools, work method a.o. Calculations are therefore not allowed to be based on these values. In case of larger projects we recommend to assess the consumption by making a trial surface. Applications in the combined method (buttering-floating) increase the consumption by approx. 20 to 25%. In case of powder products the data relate to the consumption of dry powder for easier calculation of the material requirement.