PCI Flexmörtel

®

S1
Flexible tile adhesive
for all ceramic coverings
Flexible tile adhesive
for all ceramic coverings
Areas of application
For indoor and outdoor use on walls and floors.
For the flexible laying of tiles and slabs.
For laying cement screeds with a residual moisture ≤4% CM*
For laying ceramic tiles on all PCI bonded screeds.
For laying tiles on heated screeds.
For laying tiles in swimming pools, pool surrounds, wet rooms and cold storage depots.
For laying tiles on mastic asphalt screed (only indoors) and all cement-based and gypsum-based substrates, glass mosaic and porcelain mosaic, firmly adhering PVC coverings and old ceramic coverings.
For laying polyurethane foam boards at basement walls in contact with the ground (perimeter insulation) on render/plaster, concrete, brickwork and waterproofing slurry; for mineral fibre boards (e.g. Isover or Rockwool), for cut rigid foam boards (e.g. polystyrene), for extruded rigid foam boards.
For the repair of irregular walls and floors prior to laying tiles and slabs.
All test certificates are available under www.pci-augsburg.eu
Product features
Meets C2TE S1 requirements to DIN EN 12004 and "guideline for flexible mortar".
Flexible, compensates elongations of the substrate due to variations in temperature and shrinkage.
High non-sag properties, even with heavy slabs.
For adhesive bed thicknesses from 1 to 10 mm.
Very low emissions, GEV EMICODE EC 1 PLUS.
Low in chromates to TRGS 613.
Waterproof and temperature resistant from -30°C to +80°C, multi-purpose use indoors and out on walls and floors.
Forms of delivery:
20-kg-bag/ 5-kg-bag
Consumption calculator
Your Result
Quantity Required approximately
corresponds
This consumption calculation included in the program contains approximate values based on experiences which might considerably vary upwards and also downwards depending on the structure of substrate, type of tiles, different profiles on the reverse sides, type of tiling tools, work method a.o. Calculations are therefore not allowed to be based on these values. In case of larger projects we recommend to assess the consumption by making a trial surface. Applications in the combined method (buttering-floating) increase the consumption by approx. 20 to 25%. In case of powder products the data relate to the consumption of dry powder for easier calculation of the material requirement.
Building pros also use:

Special waterproofing tape system for waterproof corner and perimeter joints, pipe culverts and floor drains

Multi-use flexible joint grout for all tiles and natural stones
Multi-use flexible joint grout especially for vitrified tiles and non-vitrified tiles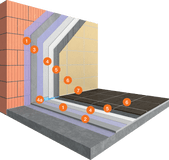 Versatile, very low-emission tiling system for all tiles in interior applications
Downloads
Declaration of performance EN 12004 (C2TE S1)
Sustainability data sheet
Flexible tile adhesives from PCI
Flyer - PCI Flexmörtel S1
Pocket folder - PCI Flexmörtel line
Classification report EN 13501-1 (A2-s1, d0)
Combined with product:
PCI Flexmörtel® S1
Classification report EN 13501-1 (A2fl-s1)
Combined with product:
PCI Flexmörtel® S1
Licensing GEV EMICODE (EC1 PLUS)
Combined with product:
PCI Flexmörtel® S1
UK Declaration of Conformity BS EN 12004 (C2TE S1)
Combined with product:
PCI Flexmörtel® S1