PCI FT

®

Fugenweiß
Joint grout
for non-vitrified tiles and vitrified tiles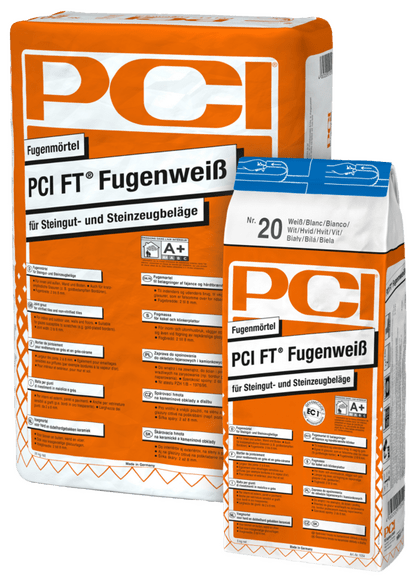 Joint grout
for non-vitrified tiles and vitrified tiles
Areas of application
For indoor and outdoor use.
For walls and floors.
For grouting ceramic tiles and flagstones, medium-sized mosaic and small-sized mosaic.
For grouting vitrified tiles, non-vitrified tiles, vitrified facing bricks, brick tiles, floor clinker tiles and engineered stone.
For joint width from 2 to 8 mm.
Product features
Crack-free curing, the joint does not crack or crumble.
Waterproof and frost resistant, multi-purpose use indoors and out.
Good workability, therefore easy to apply.
The colour shades of the PCI joint grouts match the PCI joint sealants, therefore nice overall appearance.
No waiting times after fixing the tiles, tiles can be grouted as soon as they are walkable.
Resistant to temperatures from -20°C to +80°C.
Forms of delivery:
25-kg-bag/ 5-kg-bag
Colors

Consumption calculator
Your Result
Quantity Required approximately
equivalent *
This consumption calculation included in the program contains approximate values based on experiences which might considerably vary upwards and also downwards depending on the structure of substrate, type of tiles, different profiles on the reverse sides, type of tiling tools, work method a.o. Calculations are therefore not allowed to be based on these values. In case of larger projects we recommend to assess the consumption by making a trial surface. Applications in the combined method (buttering-floating) increase the consumption by approx. 20 to 25%. In case of powder products the data relate to the consumption of dry powder for easier calculation of the material requirement.
Downloads
Licensing GEV EMICODE (EC1 PLUS)
Combined with product:
PCI FT® Fugenweiß