PCI Ocean

®

Flex PUR
Reaction resin tile adhesive
for use on steel and aluminium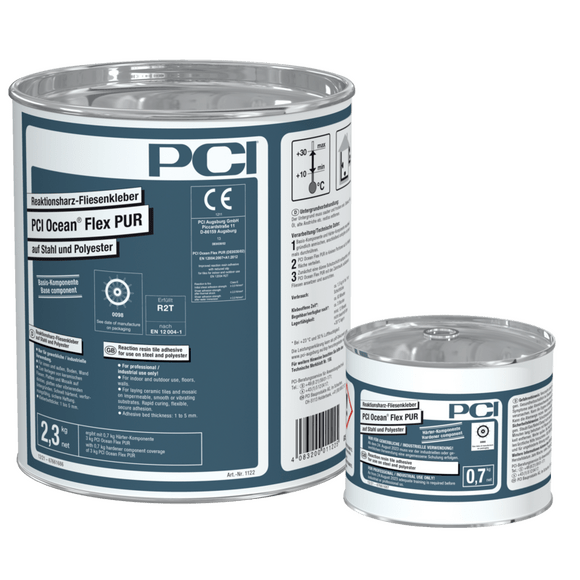 Reaction resin tile adhesive
for use on steel and aluminium
Areas of application
For indoor and outdoor use.
For walls and floors.
For laying ceramic tiles, flagstones and mosaic.
For use on impermeable, smooth and vibrating substrates such as aluminium and steel (e.g. upper deck on ships).
For use on the leveling coatings PCI Ocean®Deck and PCI Ocean®Cret.
Meets the requirements of R2T to DIN EN 12004.
Important note:
Effective August 24, 2023, an appropriate training must be carried out before use (applies only to EU countries).
More information on the training courses is available here
www.pci-augsburg.eu/pu-product-training
.
Product features
Rapid and shrinkage-free curing, groutable after approx. 3 hours, able to bear weight after approx. 12 hours.
Especially suitable for fast track works, e.g. for refurbishment work with only short interruptions in operation.
Flexible, adaptable to variations in temperature and expansions in the substrate.
Reliable adhesion to impermeable, smooth and vibrating substrates.
With MED approval within the system with PCI Epoxigrund, tile covering and PCI Nanofug.
Forms of delivery:
3-kg-can
Consumption calculator
Your Result
Quantity Required approximately
corresponds
This consumption calculation included in the program contains approximate values based on experiences which might considerably vary upwards and also downwards depending on the structure of substrate, type of tiles, different profiles on the reverse sides, type of tiling tools, work method a.o. Calculations are therefore not allowed to be based on these values. In case of larger projects we recommend to assess the consumption by making a trial surface. Applications in the combined method (buttering-floating) increase the consumption by approx. 20 to 25%. In case of powder products the data relate to the consumption of dry powder for easier calculation of the material requirement.
Multi-use laying system for tiles on upper decks
Downloads
Declaration of performance EN 12004 (R2T)
MED EC Type Examination Certificate Marine Equipment Directive 2014/90/EU Item No. MED/3.18c
Combined with product:
PCI Nanofug® Premium, PCI Ocean® Flex PUR, PCI Epoxigrund 390
MED EC Certificate of Conformity Marine Equipment Directive 2014/90/EU Item No MED/3.1, MED/3.13, MED/3.18a, MED/3.18c
Combined with product:
PCI Nanolight®, PCI Novoment® Light, PCI Durapox® Premium Multicolor, PCI Durapox® Premium, PCI Flexmörtel® S2, PCI Nanofug® Premium, PCI Epoxigrund Rapid, PCI STL 39, PCI VG 2, PCI Ocean® Flex PUR, PCI Ocean® Deck, PCI Ocean® Cret, PCI Durafug® NT, PCI Durapox® NT plus, PCI Durapox® NT, PCI Gisogrund® 404, PCI Seccoral® 1K, PCI Periplan® Extra, PCI Novoment® Z1, PCI Novoment® M3 plus, PCI Carraflex®, PCI Carraferm®, PCI Novoment® M1 plus
Declaration of Conformity Marine Equipment Directive 2014/90/EU Item No. MED/3.18a, MED/3.18c
Combined with product:
PCI Nanolight®, PCI Durapox® Premium Multicolor, PCI Durapox® Premium, PCI Flexmörtel® S2, PCI Nanofug® Premium, PCI Epoxigrund Rapid, PCI STL 39, PCI Ocean® Flex PUR, PCI Ocean® Deck, PCI Ocean® Cret, PCI Durafug® NT, PCI Durapox® NT plus, PCI Durapox® NT, PCI Gisogrund® 404, PCI Epoxigrund 390, PCI Seccoral® 1K, PCI Carraflex®, PCI Carraferm®