PCI Pavifix

®

CEM
Cement joint grout
for natural stone pavers
Cement joint grout
for natural stone pavers
Areas of application
For joint widths from 5 mm.
For floor surfaces and drainage channels in bonded construction.
For grouting mosaic pavers, small pavers and large pavers made of natural stone and concrete.
For grouting natural stone coverings insensitive to staining (by pouring or wet grouting).
Suitable for all traffic areas.
Product features
Self leveling, joints are well filled.
Highly wear resistant, permanent resistance to weather conditions and mechanical loads.
Crack-free curing, grout does not break off.
Water impermeable.
Resistant to frost/de-icing salt, multi-purpose use indoors and out.
Wet grouting on paved surfaces.
Application by pouring the grout on flagstone coverings.
Material can be adjusted to a thixotropic consistency for sloped surfaces.
Forms of delivery:
25-kg-bag
Consumption calculator
Your Result
Quantity of resources required in approximately
corresponds
This consumption calculation included in the program contains approximate values based on experiences which might considerably vary upwards and also downwards depending on the structure of substrate, type of tiles, different profiles on the reverse sides, type of tiling tools, work method a.o. Calculations are therefore not allowed to be based on these values. In case of larger projects we recommend to assess the consumption by making a trial surface. Applications in the combined method (buttering-floating) increase the consumption by approx. 20 to 25%. In case of powder products the data relate to the consumption of dry powder for easier calculation of the material requirement.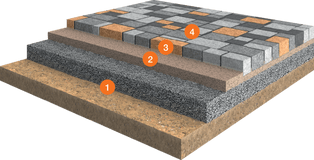 System for laying and grouting paving subject to moderate or high mechanical loading
Downloads
Overview PCI Pavifix range