PCI Polycret

®

5
Concrete fairing coat
for walls and overhead application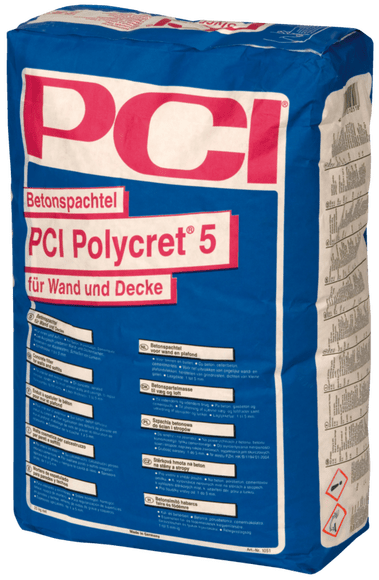 Concrete fairing coat
for walls and overhead application
Areas of application
For indoor and outdoor use.
For walls and overhead application.
Repair of honeycombs, filling voids (scrape fillers), repair of broken corners and edges at low layer thickness.
For repair of render.
As fast-curing thin-wall plaster on concrete, fair-faced concrete and aerated concrete, render.
For levelling irregular wall surfaces before tiling.
For layer thickness from 1 to 5 mm.
Product features
Shrinkage-compensated curing.
Fast setting, can be painted over with silicate paint after approx. 4 hours, with dispersion paint after approx. 24 hours, can be laid with tiles after approx. 4 to 6 hours.
Can be applied in very thin layers, thus enabling even surfaces and transitions.
Waterproof, resistant to weather conditions and frost, multi-purpose use indoors and out.
Creamy and workable after adding water, easy to apply.
Forms of delivery:
25-kg-bag/ 5-kg-bag
Consumption calculator
Your Result
Quantity Required approximately
corresponds
This consumption calculation included in the program contains approximate values based on experiences which might considerably vary upwards and also downwards depending on the structure of substrate, type of tiles, different profiles on the reverse sides, type of tiling tools, work method a.o. Calculations are therefore not allowed to be based on these values. In case of larger projects we recommend to assess the consumption by making a trial surface. Applications in the combined method (buttering-floating) increase the consumption by approx. 20 to 25%. In case of powder products the data relate to the consumption of dry powder for easier calculation of the material requirement.
Downloads
Declaration of performance EN 998-1 (GP CS IV)
Classification report EN 13501-1 (E)
Combined with product:
PCI Polycret® 5
Licensing GEV EMICODE (EC1 PLUS)
Combined with product:
PCI Polycret® 5