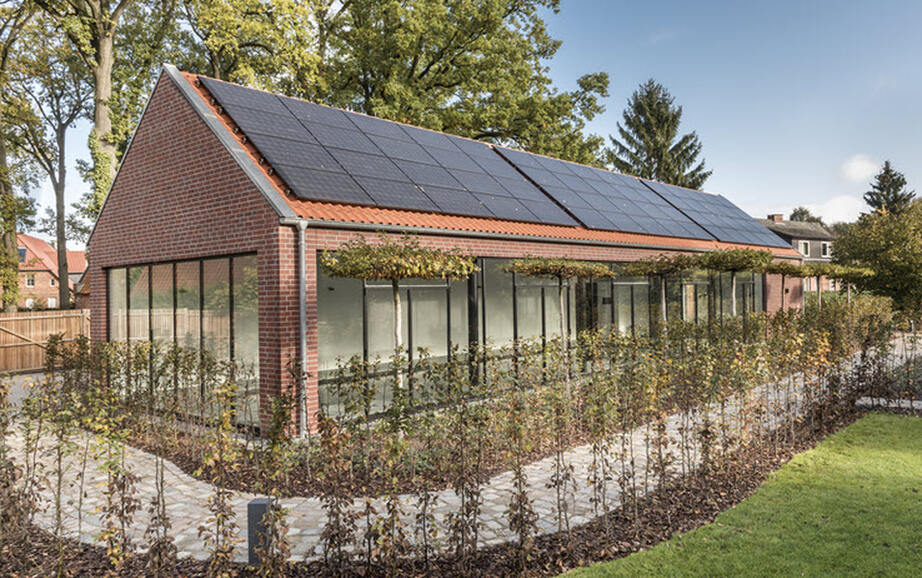 Bathing as in ancient Rome
Private spa tiled using PCI system products
Bathing as in ancient Rome
Private spa tiled using PCI system products
The ancient Romans were already well aware of the healthy, relaxing effect of lengthy bathing. A property owner near to Lüneburg Heath took Roman bathing culture as his model and planned a private spa on his land, which has an area of several thousand square meters. With the support of PCI Augsburg GmbH and using selected PCI system products, Fliesen-Engelke GmbH tiled the floors and walls of the spa building. The architecture firm Scaven Hütz of Hamburg was responsible for planning and construction supervision while the interior architecture was the work of HONEYandSPICE. The result is a facility providing an exclusive bathing experience.

A systematic approach: waterproofing, tiling and grouting

First, the 4 x 17 m GRP pool with pre-installed grey glass mosaic tiling was lowered into the spa building, with a floor area of about 230 square meters, using a special crane. For tiling, including waterproofing, adhesive bonding and grouting, PCI application technician Eric Peter made a recommendation for the sequence and selection of system products. PCI adviser Thomas Rauls provided project support and made several visits to the site.

Sheet waterproofing for the greatest possible reliability

The tiling contractor waterproofed the pool surround as well as the walls and floors in the showers using PCI Pecilastic W and PCI Seccoral 2K Rapid. The flexible crack-bridging waterproofing membrane PCI Pecilastic W is suitable for laying under ceramic and natural stone coverings and is ideal for wet areas with severe exposure to non-pressing water (water exposure class W2-I in accordance with DIN 18534). The two-component waterproofing slurry PCI Seccoral 2K Rapid ensures that the overlaps between the waterproofing sheets are also watertight. The substrate was primed using PCI Gisogrund 404 special primer before waterproofing was applied.

Laying and grouting a fully vitrified tiled covering that remains attractive in the long term

The tilers laid the exclusive great fully vitrified tiles, with a size of 90 x 90 centimeters, on a total area of about 130 square meters using PCI Flexmörtel S1 Flott tile adhesive. The flexible tile adhesive combines long working time with fast setting for extremely convenient application. Thanks to the firm adhesive bed, it is ideal for laying large tiles.

Tiles on the pool surround were grouted with PCI Nanofug Premium. The cementitious joint grout with easy-to-clean effect, increased resistance to acidic household cleaning products and improved protection against frequent attack by mold and microorganisms also offers especially attractive colors and a fine surface texture. Thanks to its smooth, creamy consistency, PCI Nanofug Premium is also very convenient to use. PCI Durapox Premium was used on the walls and floors of the showers. This innovative epoxy resin joint grout features extremely brilliant colors, a homogeneous surface texture and a creamy consistency for application.

Very low-emission tiling work

"Using PCI system products, we were able to meet all the requirements for this spa and to complete the work to the entire satisfaction of the owner," reports master tiler Jürgen Engelke, adding: "The entire PCI range is convincing because all the products harmonize perfectly with each other and offer the highest possible levels of reliability. They are really dependable." In addition, PCI products allow the construction of a healthy living environment. The materials used for priming, waterproofing, tiling and grouting are all very low-emission products in accordance with GEV EMICODE EC1 or EC1 PLUS.
Task
Waterproofing and tiling the floors and showers of a spa with an area of about 130 square meters
City
Samtgemeinde Bevensen-Ebstorf
Products used
PCI Gisogrund® 404, PCI Pecilastic® W, PCI Seccoral® 2K Rapid, PCI Nanofug® Premium, PCI Flexmörtel® S1 Flott, PCI Durapox® Premium
Specialist advice
Thomas Rauls
Company
Fliesen-Engelke GmbH, Soltau
Your contact for inquiries:
Download project report