PCI Pecilastic

®

W
Flexible waterproofing membrane
underlay for ceramic tiles and natural stones

Flexible waterproofing membrane
underlay for ceramic tiles and natural stones
Areas of application
For indoor and outdoor use.
For walls and floors.
Suitable for use classes A, B and C in accordance with the test principles to issue an official test certificate.
Suitable for wet areas subject to non-pressing water such as bathrooms, showers in residential buildings, hotels, old people's homes and hospitals.
Suitable for water exposure classes W0-I, W1-I, W2-I to DIN 18534.
For balconies and terraces.
For swimming pools.
For waterproofing under ceramic tiles subject to chemical loads, e.g. in industrial kitchens, breweries, dairies, beverage industry, slaughterhouses, cold storage rooms, paper mills, laboratories, hospitals etc.
On moisture sensitive, absorbent substrates, e.g. plaster, gypsum floorboard, gypsum fiberboard, plasterboard, particle board, anhydrite screed in damp and wet areas subject to common use in households.
On mineral, absorbent substrates, e.g. concrete, screed, render, aerated concrete, cementitious fairing coat for walls such as PCI Pericret, PCI Nanocret FC/R2/R3/R4, and self-leveling compounds such as PCI Periplan.
With official test certificates.
For steam cabins.
Waterproofing under parquet flooring in private bathrooms (moisture use class A0).
Product features
Water impermeable, protects moisture sensitive substrates.
Flexible, takes expansions, levels irregular substrates, compensates temperature fluctuations and vibrations.
Crack bridging, high reliability even if cracks in the substrate form at a later stage.
Ready to use, the waterproofing membrane is only bonded to the substrate.
Fast work sequence, ceramic tiles or natural stones can be immediately fixed once the waterproofing membrane is laid.
Water vapor barrier.
Very low emissions PLUS, GEV-EMICODE EC 1 PLUS.
Forms of delivery:
30-m-roll
Building pros also use:
Special waterproofing tape system for waterproof corner and perimeter joints, pipe culverts and floor drains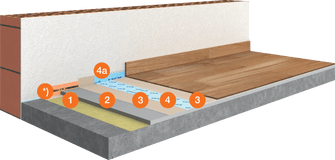 Laying system especially for parquetry in bathrooms Laying system especially for parquetry in bathrooms
System for laying glass tiles and glass mosaics
Downloads
Declaration of performance ETA-13/0766
Sustainability data sheet
PCI Material samples - Waterproofing and isolating membranes
Classification report EN 13501-1 (E)
Combined with product:
PCI Pecilastic® W
Classification report EN 13501-1 (Efl)
Combined with product:
PCI Pecilastic® W
Licensing GEV EMICODE (EC1 PLUS)
Combined with product:
PCI Pecilastic® W
European Technical Assessment EAD 030436-00-0503 – Watertight covering kits based on flexible sheets for wet room floors and or walls - Edition March 2019 and discussed test plan with ETA Danmark
Combined with product:
PCI Pecilastic® W