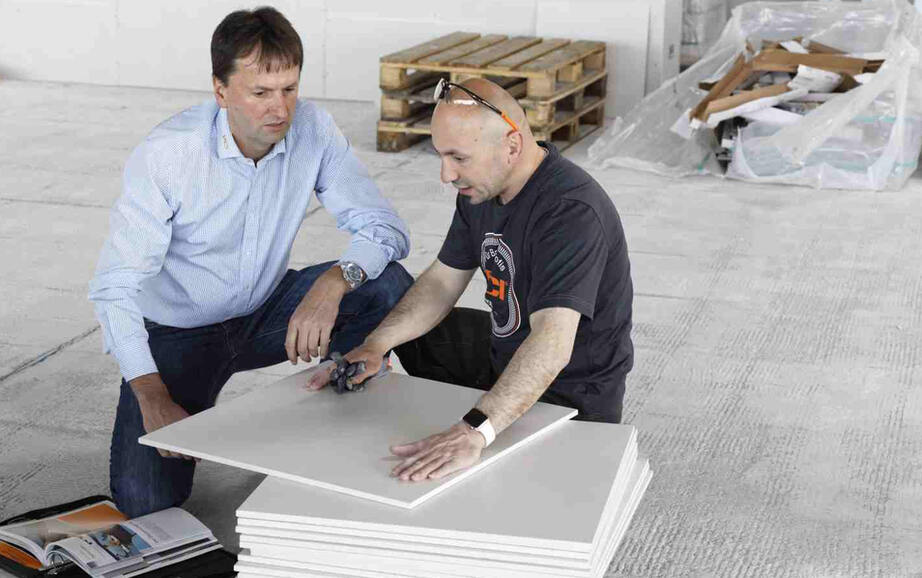 Focusing on cars
Laying large tiles at a car dealership in Hof
Focusing on cars
Laying large tiles at a car dealership in Hof
The large Automobil-Zentrum-Hof has been located on the edge of Hof, a town in "uppermost Bavaria", as the local people say, since 2016. Here, Motor-Nützel GmbH focuses its operations in Hof at one location, with Audi, Volkswagen and Skoda dealerships. The car dealer built the new facilities at the centre in accordance with the latest standards of the carmakers concerned. The Skoda showroom features large white tiles which were laid using PCI products. PCI adviser Armin Brehm and PCI applications technician Winfried Schuster provided support for planning and implementation.

Strong bonding for heavy vehicles

The tilers started by applying PCI Gisogrund primer to the substrate. This was followed by application of the very low-emission tile adhesive PCI Flexmörtel S2 both to the substrate and to the backs of the tiles in order to ensure better bonding and to prevent voids. Using this buttering and floating procedure, the craftsmen laid the 60 x 60 cm tiles in stack bond over a total area of 740 m². "This tile adhesive is especially well-suited for laying large tiles," explains Winfried Schuster from PCI. "Its firm consistency prevents the sagging of heavy tiles and the formation of uneven surfaces. In addition, the highly elastic mortar absorbs temperature differences and stress from the substrate, ensuring a tensile strength that is twice the value required." The joints were grouted using PCI Nanofug Premium, a variable, very low-emission flexible joint grout for all tiles and natural stones. The craftsmen used PCI Elritan 140 single-component polyurethane sealant to fill the expansion joints.

The fashionable large white tiles have created a bright and welcoming atmosphere in the showroom. The matching colour schemes used for walls and floors focus attention on the Skoda cars which are on Show.
Task
Laying large tiles (60 x 60 cm) in a Skoda showroom
Products used
PCI Elritan® 140, PCI Gisogrund®, PCI Nanofug® Premium, PCI Flexmörtel® S2
Specialist advice
Winfried Schuster, PCI applications technician Armin Brehm, PCI technical adviser
Architect
W. Markgraf GmbH & Co KG, Bayreuth
Your contact for inquiries:
Download project report