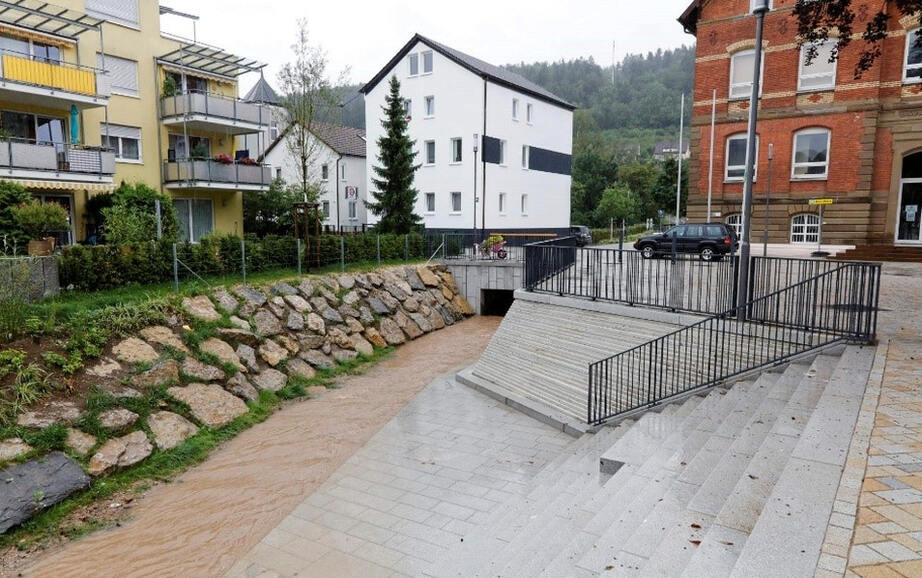 Laid in winter: Natural stone slabs for the Remstal Garden Show 2019
City of Lorch relies on PCI products for layered masonry with heavy slabs of different thickness and extremely thin joints
Laid in winter: Natural stone slabs for the Remstal Garden Show 2019
City of Lorch relies on PCI products for layered masonry with heavy slabs of different thickness and extremely thin joints
For the first time in Germany, a garden show is taking place in 16 different towns and communities: the Remstal Garden Show 2019. One of the participating communities is the city of Lorch, which is located at the narrowest point of the Remstal valley east of Stuttgart. As part of its preparations for the horticultural show, it has cleared the Götzenbach, tributary to the Rems, to create access to the water and seating for people to linger.

Granite slabs at the Götzenbach culvert

In order for the garden show to open on time on May 10, 2019, the work had to be done during the winter. This raised the urgent question of building materials that could be worked well and reliably even at low temperatures: Granite slabs were to be laid over around 60 square meters and a layered masonry wall was to be created over around 80 square meters. Together with the contractor Hoyler PCI Augsburg GmbH was already on board during the planning phase. On the recommendation of PCI technical consultant Alfred Haug the craftsmen carried out the laying of the granite slabs with PCI Carrament laying mortar. For the substrate preparation PCI Gisogrund wash and protection primer and PCI Pericret leveling mortar were used beforehand. A challenge for the craftsmen were the very heavy and differently thick natural stone slabs. The easy application of PCI Carrament was helpful: Thanks to its creamy consistency the laying mortar can be applied with the help of a medium trowel without much effort. Important for use outdoors and at low temperatures: PCI Carrament is resistant to permanent wetness as well as frost and compensates temperature fluctuations and substrate stresses due to its flexibility. Due to the fast curing, the natural stones laid with PCI Carrament can be grouted after only about six hours. This was done with PCI Pavifix CEM ROC when laying the slabs at Götzenbach.

Layered masonry with PCI Pavifix CEM ROC

The cementitious paving mortar PCI Pavifix CEM ROC is suitable for both setting and grouting especially of natural stone walls. Thus only one product had to be kept on stock at the Götzenbach construction site and the craftsmen, once familiar with the application, were able to set, fix and grout the entire layered masonry with PCI Pavifix CEM ROC quickly and professionally. Even the extremely thin joints posed no problem because PCI Pavifix CEM ROC can be variably adjusted as required and can be applied in a non-sag or slurry-type manner. The mortar is also very wear-resistant and thus permanently resistant to weathering and, of course, frost-de-icing salt resistant. The Hoyler construction company was at work with six employees on the Götzenbach in Lorch and was able to complete the work on schedule after a construction period of two months.
Task
Laying granite slabs as well as producing a granite layered wall in winter
Size
Approx. 60 sqm slabs and 80 sqm brickwork
Products used
PCI Gisogrund®, PCI Pericret®, PCI Pavifix® CEM ROC, PCI Carrament® grey
Company
Bauunternehmen Hoyler, Kirchheim unter Teck
Your contact for inquiries:
Download project report