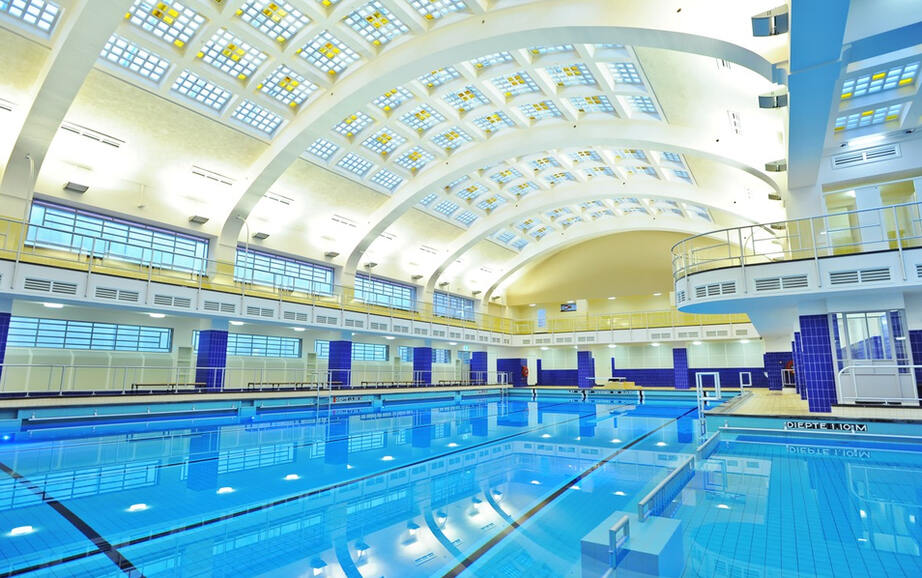 "Oostelijk Zwembad" swimming pool in Rotterdam
Renovation in the style of the 1930s
"Oostelijk Zwembad" swimming pool in Rotterdam
Renovation in the style of the 1930s
Rotterdam's oldest swimming pool, located in the east of the city, is appropriately named "Oostelijk Zwembad", which simply means "eastern swimming pool". The pool, which was constructed in 1932 and is a protected monument, certainly needed to be renovated some 80 years later. Authentic restoration in the style of the 1930s was one of the essential requirements. This was a real challenge for everyone involved, including the tiling contractor. There was a total tiled area of about 3,500 m², with tiles in 65 different colours, sizes and shapes, some of which were well preserved while others were in very poor condition. It was possible to remove and reuse the intact tiles. Damaged tiling had to be replaced by new tiles produced in Hungary in accordance with the original models. Tiles which originally not been laid at right angles had to be processed in an appropriate way. The tiling and construction contractors received support from BASF Netherlands application technicians both during technical preparations and during the actual tiling work on site.

The various types of substrate around the large pool were primed using PCI Gisogrund primer. The walls of the pool itself and the substrates of the pool surround were levelled with PCI Pericret. The contractor used an anti-capillary layer of PCI Apoten epoxy coating with silica sand on the pool edge to prevent damage caused by water creep. The specialists primed the flanges and the underwater light fittings with PCI Epoxigrund 390 combined with silica sand. The fast setting waterproofing slurry PCI Seccoral 2K Rapid and PCI Pecitape were used for waterproofing.

The tilers laid the natural stone tiles on the pool coping using PCI Carrament medium-bed mortar and grouted the tiling with PCI Carrafug special grout. The 700 m2 of tiling in the pool itself were laid and grouted with PCI Durapox NT plus reaction resin adhesive. PCI Durafug NT special grout was used on the pool coping and the floors of the surrounding wet rooms. Wall tiles in the wet rooms were installed with PCI Nanolight adhesive and grouted with PCI Nanofug Premium.
Task
Refurbishment of a swimming pool subject to protection as a historic monument
Size
About 3,500 m², including about 700 m² in pool
Products used
PCI Carrafug®, PCI Carrament® white, PCI Nanolight®, PCI Pecitape® 10 x 10, PCI Epoxigrund 390, PCI Gisogrund® 303, PCI Apoten®, PCI Pericret®, PCI Durapox® NT, PCI Durafug® NT, PCI Pecitape® 42.5 x 42.5, PCI Seccoral® 2K Rapid, PCI Nanofug® Premium, PCI Carrament® grey
Specialist advice
BASF Netherlands - PCI applications technician
Company
Construction: Koninklijke Woudenberg bv Tiling: CBL Afbouwbedrijf
Architect
Putter Partners Architects
Your contact for inquiries:
Download project report