PCI Gisogrund

®

303
Wash primer
for smooth, non-absorbent substrates
Wash primer
for smooth, non-absorbent substrates
Areas of application
For indoor and outdoor use.
For walls and floors.
For priming impermeable, non-absorbent coverings such as Terrazzo, ceramic tiles and flagstones, glazed clinker bricks, natural stone and cast stone, substrates with adhesive residues as well as asphalt tiles or firmly bonding and rough-ground PVC coverings.
Prior to laying ceramic tiles and flagstones with PCI tile adhesives, such as PCI Flexmörtel S1, PCI Flexmörtel S1 Flott, PCI Nanolight, etc.
Prior to rendering with PCI Polycret 5 concrete filler as well as PCI Pericret.
Product features
Solvent free to TRGS 610; Giscode D1.
Very low emissions PLUS, GEV-EMICODE EC 1 PLUS.
EU 2004/42/IIA(g)(50/30): < 3 g/l.

Rapid sequence of further worksteps

, tack-free after approx. 30 to 45 minutes.

Ready to use, no mixing required, optimized workability for application by roller and brush.

High bond strength

, reliable adhesion to subsequent coverings.

Wet proof,

can be directly covered with tiles - in case of moderate exposure to moisture -

if no waterproofing is required

.

Light yellow dye for easier coverage control

.
Forms of delivery:
20-l-pail/ 5-l-pail/ 1-l-bag
Consumption calculator
Your Result
Quantity Required approximately
corresponds
This consumption calculation included in the program contains approximate values based on experiences which might considerably vary upwards and also downwards depending on the structure of substrate, type of tiles, different profiles on the reverse sides, type of tiling tools, work method a.o. Calculations are therefore not allowed to be based on these values. In case of larger projects we recommend to assess the consumption by making a trial surface. Applications in the combined method (buttering-floating) increase the consumption by approx. 20 to 25%. In case of powder products the data relate to the consumption of dry powder for easier calculation of the material requirement.
Building pros also use:

Silicone joint sealant for multi-purpose indoor and outdoor use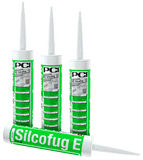 Elastic joint sealant for indoor and outdoor use

Silicone joint sealant for natural stones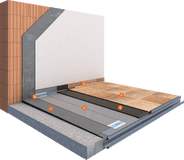 Laying system for all tiles and natural stone coverings in outdoor applications
Downloads
Licensing GEV EMICODE (EC1 PLUS)
Combined with product:
PCI Gisogrund® 303