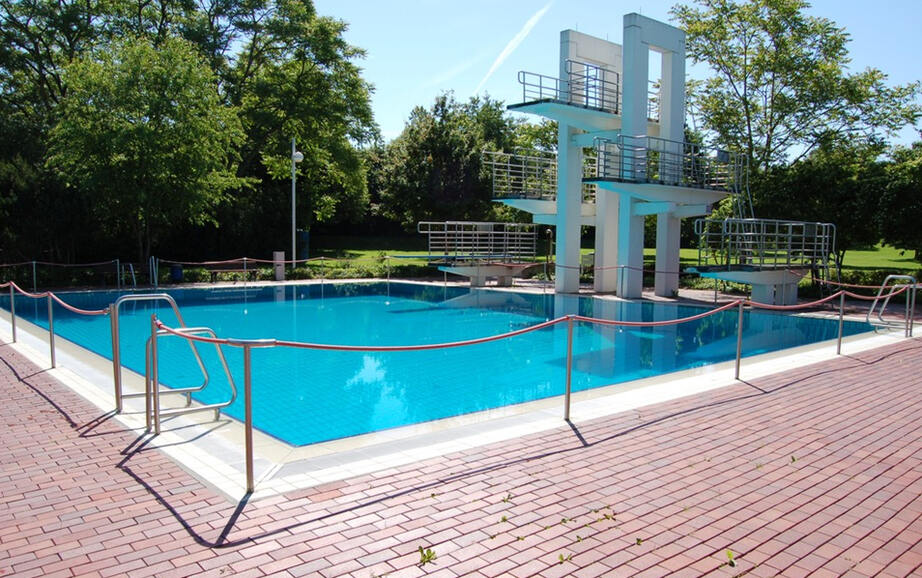 Step-by-step restoration with PCI products
As of 2014 the Neu-Isenburg swimming pool proves to be back in top form
Step-by-step restoration with PCI products
As of 2014 the Neu-Isenburg swimming pool proves to be back in top form
Guests at the forest-ringed Neu-Isenburg swimming pool are sure to have a great time outdoors: A swimming pool diving platform with a 5-metre diving tower, a 50-metre swimmer's pool and a large non-swimmer's pool are situated in a park covering about 2.5 hectares and featuring an old stock of trees. However in 2009 restoration became unavoidable due to substantial damage at the poolside edge of the overflow system. Because of the pool's seasonal operation the work stretched over a period of more than five years. The owner engaged the tile company Hoffelner GmbH to renew the pool edge system.

The chiselling work on the diving pool began in the autumn of 2009. Four tilers were busy with the restoration non-stop. The work was always started in the autumn and – depending on the severity of the winter – resumed in the spring. All told the pool edge was repaired at a length of approx. 150 m on the swimmer's pool, approx. 180 m on the non-swimmer's pool and approx. 60 m on the diving pool. In doing so the entire existing structure at the poolside edge had to be gradually removed from each pool or prised from overflow channels and old screed mortar down to the load-bearing concrete foundation. Then the Hoffelner company's employees brought the pool edge to the required height using a PCI fast setting screed cement.

Time-proven approach: carefully laid levelling mortar with PCI Novoment Z1 fast setting cement plus aggregate grain in the overflow channel as well as in the pool's raised edge section and in the pool surrounds with PCI Repahaft as the bonding agent. After priming with PCI Epoxigrund 390 the Hoffelner company's specialists waterproofed the pool edge with PCI Apoflex W. Tiles and overflow channels were laid with PCI FT Extra in the low void "Combined Procedure" according to DIN 18157-1; the grouting was done with reaction resin mortar PCI Durapox NT plus.
Task
Step-by-step renewal of the pool edge system
Size
Approx. 150 m on the swimmer's pool, approx. 180 m on the non-swimmer's pool and approx. 60 m on the diving pool
Products used
PCI Apoflex® W, PCI Novoment® Z1, PCI Epoxigrund 390, PCI Repahaft®, PCI Durapox® NT plus, PCI FT® Extra
Specialist advice
Dipl.-Ing. Ingo Grollmisch
Owner
Stadtwerke Neu-Isenburg [Municipal Utilities]
Company
Firma Hoffelner GmbH, Schlagfeldstraße 12, 63303 Dreieich
Your contact for inquiries:
Download project report