PCI Novoment

®

M1 plus
Ready-mixed, fast-setting screed mortar
for fast-curing cement screeds

Ready-mixed, fast-setting screed mortar
for fast-curing cement screeds
Areas of application
For indoor and outdoor use.
Suitable for direct use.
For areas exposed to permanent wetness.
For fast-curing bonded screeds and screeds installed on an isolating layer or insulation layer.
Suitable for heated screeds.
As repair mortar for quick repairs of industrial floors.
For layer thickness from 20 to 120 mm.
Very low emissions, GEV-EMICODE EC1 PLUS.
Product features
Can be tiled after approx. 1 day, walkable after approx. 3 hours.
Ready-mixed mortar, therefore no on-site mixing with sand required.
Extended processing time, can be worked with and smoothed for almost 1 hour despite of short curing time.
Temperature resistant from -30°C to +80°C, therefore suitable for balconies, terraces, garages, industrial floor coverings cleaned with superheated steam.
Insensitive to moisture, therefore suitable for areas exposed to permanent wetness.
Limited bending, it is therefore possible to reduce layer thickness to 30 mm for screeds on insulation layer (point load ≤ 2 kN or area load ≤ 3 kN/m²), in case of heated screeds the pipes must be covered by a layer thickness of 30 mm.
Forms of delivery:
25-kg-bag
Consumption calculator
Your Result
Quantity Required approximately
corresponds
This consumption calculation included in the program contains approximate values based on experiences which might considerably vary upwards and also downwards depending on the structure of substrate, type of tiles, different profiles on the reverse sides, type of tiling tools, work method a.o. Calculations are therefore not allowed to be based on these values. In case of larger projects we recommend to assess the consumption by making a trial surface. Applications in the combined method (buttering-floating) increase the consumption by approx. 20 to 25%. In case of powder products the data relate to the consumption of dry powder for easier calculation of the material requirement.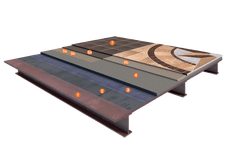 Multi-use, very low-emission laying system for tiles and natural stone coverings on screed
Downloads
Declaration of performance EN 13813 (CT-C60-F7-A12)
Sustainability data sheet
On the floor, get set, go! PCI Novoment fast-setting screed mortars
Flyer - PCI Novoment M1 Plus
MED EC Type Examination Certificate Marine Equipement Directive (EU)2014/90/EU Item 3.1
Combined with product:
PCI Novoment® M1 plus
UK Declaration of Conformity BS EN 13813 (CT-C60-F7-A12)
Combined with product:
PCI Novoment® M1 plus
MED EC Certificate of Conformity Marine Equipment Directive 2014/90/EU Item No MED/3.1, MED/3.13, MED/3.18a, MED/3.18c
Combined with product:
PCI Nanolight®, PCI Novoment® Light, PCI Durapox® Premium Multicolor, PCI Durapox® Premium, PCI Flexmörtel® S2, PCI Nanofug® Premium, PCI Epoxigrund Rapid, PCI STL 39, PCI VG 2, PCI Ocean® Flex PUR, PCI Ocean® Deck, PCI Ocean® Cret, PCI Durafug® NT, PCI Durapox® NT plus, PCI Durapox® NT, PCI Gisogrund® 404, PCI Seccoral® 1K, PCI Periplan® Extra, PCI Novoment® Z1, PCI Novoment® M3 plus, PCI Carraflex®, PCI Carraferm®, PCI Novoment® M1 plus
Declaration of Conformity Marine Equipement Directive 96/98/EC Item A1/3.1
Combined with product:
PCI Novoment® Light, PCI STL 39, PCI VG 2, PCI Epoxigrund 390, PCI Periplan® Extra, PCI Novoment® M1 plus
Licensing GEV EMICODE (EC1 PLUS)
Combined with product:
PCI Novoment® M1 plus