PCI Pecimor

®

1K
Bitumen thick coating
for external basement walls and foundations

Bitumen thick coating
for external basement walls and foundations
Areas of application
For walls and floors.
For indoor and outdoor use.
Waterproofing to DIN 18533 W1-E:
Waterproofing against soil moisture and non-standing seepage water on floor slabs and walls.
As waterproofing measure to DIN 18533 W4-E splash water at a wall foundation.
For waterproofing structures and structural members to DIN 18195 for load cases 4 and 5.
As horizontal waterproofing under a load distribution layer for balconies and access balconies.
For waterproofing structural members against water aggressive to concrete to DIN 4030.
CE certified.
Product features
Total dissolved solids up to 90%.
CE certified in accordance with EN 15814.
Solvent free.
Single component, ready to use without stirring.
Good adhesion to dry and slightly moist substrates.
Water impermeable, crack bridging.
Resistant to aging, durable protection even after years.
Forms of delivery:
30-l-pail/ 10-l-pail
Consumption calculator
Your Result
Quantity Required * approx
corresponds
This consumption calculation included in the program contains approximate values based on experiences which might considerably vary upwards and also downwards depending on the structure of substrate, type of tiles, different profiles on the reverse sides, type of tiling tools, work method a.o. Calculations are therefore not allowed to be based on these values. In case of larger projects we recommend to assess the consumption by making a trial surface. Applications in the combined method (buttering-floating) increase the consumption by approx. 20 to 25%. In case of powder products the data relate to the consumption of dry powder for easier calculation of the material requirement.
Building pros also use:

Bitumen primer for external basement walls and foundations

Special primer for external concrete basement walls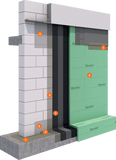 System for waterproofing buildings in accordance with DIN 18533 W1, W2, W3 and W4 with polymer-modified thick bituminous coatings (PMBC)
Downloads
Declaration of performance EN 15814 (CB2-W1-C1)
Sustainability data sheet