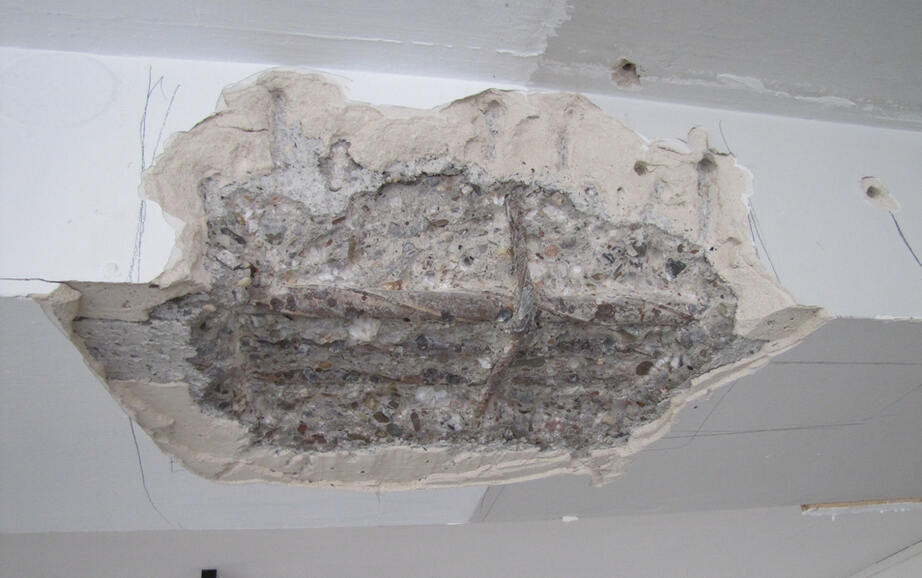 Structural safety thanks to rapid concrete repairs
Siegen: PCI provides support for critical concrete repairs, offering the right products and comprehensive advice
Products used


Structural safety thanks to rapid concrete repairs
Siegen: PCI provides support for critical concrete repairs, offering the right products and comprehensive advice
The load-bearing capacity requirements for ceilings and supports in connection with concrete repairs are very stringent. Repair mortars need to dry fast and guarantee structural safety. PCI Nanocret R4 Rapid meets these criteria. This mortar was used for the refurbishment of a former furniture store in Siegen.

When the use of a building is changed, compliance with construction and planning regulations is essential. Among other items, compliance with all the appropriate structural design requirements must be verified. This posed a problem for the architects planning the conversion of a former furniture store in the Weidenau district of Siegen. Only incomplete structural design documents were available. It was therefore necessary to test the concrete on site to determine the quantity and configuration of reinforcement steel.

It was therefore planned to drill cores out of the ceilings and to expose the reinforcement of supports and beams. It was already clear that repair work on these structural members would pose considerable requirements with a view to safeguarding structural safety. The architect therefore contacted PCI adviser Hubertus Dohle. He provided planning support and also supervised the work on site together with PCI application technician Stephan Leistner and PCI service technician Christian Kollmeyer.

Safe and rapid concrete repairs

Speed and structural safety were the key criteria for product selection. PCI application technician Stephan Leistner recommended PCI Legaran RP for corrosion protection and PCI Nanocret R4 Rapid for reprofiling. The repair mortar ensures long-term stability for concrete elements, even where the reinforcement of supports and beams has been exposed over large areas. It sets fast and can be worked over after a very short time. After the planned procedure had been reviewed by a structural design office, work could start.

Reprofiling with PCI Nanocret R4 Rapid

After the contractor had drilled cores out of the ceilings and exposed the reinforcement of supports and beams in accordance with the plans, the carbonation depth of the concrete was measured and the exposed steel was visually inspected in order to determine the degree of cleaning required. During this stage, PCI service technician Christian Kollmeyer provided advice and support. He then instructed the construction workers concerned in the application of the PCI products.

Following appropriate substrate preparation, PCI Legaran RP was applied. This corrosion protection agent can simply be mixed with water and brushed onto the surface. The processing of PCI Nanocret R4 Rapid is also quick and convenient: thanks to the smooth consistency of this product and its good adhesion to the substrate, exposed areas are easy to model, even when working overhead, and can already be worked over after about two hours. The firmly adhering repair mortar has a high compressive strength, provides active protection against corrosion and carbonation and represents a durable solution without cracking or shrinkage. PCI Nanocret R4 Rapid is certified as a repair mortar for the structural repair of concrete supporting structures in accordance with EN 1504-3 R4.

Dense mortar structure thanks to nano-cement spiculation

PCI Nanocret R4 Rapid is part of the Nanocret product family, which features the use of special inorganic additives, special cements and selected aggregates. With this combination, PCI achieves highly optimized nano-cement spiculation, producing a very dense mortar structure. The density, flexural tensile strength and compressive strength of the product are enhanced, together with its frost resistance. Key mixing, sag resistance and smoothing properties are also optimized.

PCI Nanocret R4 Rapid was precisely the right repair mortar for repairing ceilings, supports and beams at the former furniture store in Siegen. The work was safely completed in the space of only two days.
Task
Rapid, structurally safe concrete repairs on large exposed areas of ceilings, supports and beams
Products used
PCI Legaran® RP, PCI Nanocret® R4 Rapid
Owner
SPITZ Baubetrieb, Wilnsdorf
Your contact for inquiries:
Download project report