PCI Apogel

®

SH
Silicate cast resin
for casting cracks in screeds

Silicate cast resin
for casting cracks in screeds
Areas of application
For floors in the interior and exterior (at dry conditions during the installation).
For casting cracks and dummy joints in mineral screeds.
For cracks and joints up to a width of approx. 5 mm.
For producing static bonds.
Suitable for underfloor heating.
For gluing metal profiles and nail strips.
For embedding PCI Apogel Dübel dowels in screed joints.
Important note:
Effective August 24, 2023, an appropriate training must be carried out before use (applies only to EU countries).
More information on the training courses is available here
www.pci-augsburg.eu/pu-product-training
.
Product features
Low odor development; no unpleasant odor at the jobsite during and after the application.
Solvent free to TRGS 610; therefore no partial dissolving of the insulating material.
Very low emissions; GEV-EMICODE EC 1 PLUS.
Fast curing (approx. 25 minutes at +23°C).
Easy and clean application; no mixer necessary, spray nozzles allow adjustment to the crack width.
Efficient; with scale reading for exact dosing and mixing of partial quantities.
Forms of delivery:
0,60-l-combined kit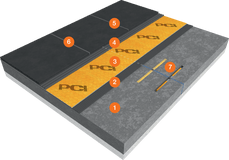 A variant of the Multi-Use Tiling System
Downloads
Licensing GEV EMICODE (EC1 PLUS)
Combined with product:
PCI Apogel® SH