PCI Silcofug

®

E
Elastic joint sealant
for indoor and outdoor use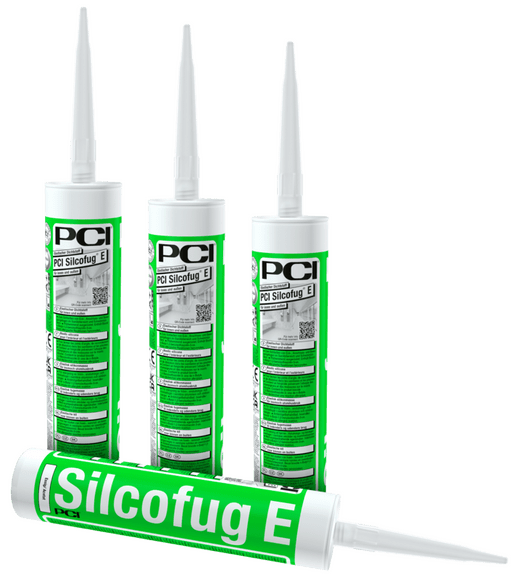 Elastic joint sealant
for indoor and outdoor use
Areas of application
For indoor and outdoor use.
For walls and floors.
For sealing corner joints, movement joints and connection joints in sanitary areas, public swimming pools including pool and pool surrounds, on balconies and terraces.
For sealing joints between glass, aluminium, wood, enamel, ceramic, rigid PVC and sanitary acrylic.
For sealing glazing rebates at window frames made of wood, anodized and non-anodized aluminium

(cf. DIN 18545 part 1-3 and IVD leaflet no. 10 – Glass sealing of wooden windows with joint sealants)

.
For sealing butt joints at figured glass, corrugated glass, glass blocks and elements.
Product features
Elastic, capable of absorbing joint movement up to 20% (cf. IVD leaflet no. 2 - Classification of joint sealants).
Resistant to weather conditions and UV radiation, ideal for outdoor application, temperature resistant up to +165°C.

Contains fungicides

, prevents fungal decay and mildew growth on the joint sealant.

Resistant to commercial household cleaners and disinfectants, the joint can be easily cleaned.
Very low emissions PLUS, GEV-EMICODE EC 1 PLUS.
Colors:
transparent, 01 brilliant white, 02 bahama beige, 03 caramel, 05 mid brown, 11 jasmine, 12 anemone, 16 silver grey, 18 manhattan, 19 basalt, 21 grey, 22 sand grey, 23 light grey, 31 cement grey, 40 black, 41 dark brown, 43 pergamon, 44 topas, 47 anthracite, 53 ochre, 54 maple, 55 nut brown, 56 terra brown, 57 fawn brown, 58 mahagony, 59 mocha, 60 black brown, 61 slate grey
Forms of delivery:
310-ml-cartridge/ 400-ml-hose
Colors


























Consumption calculator
Your Result
Quantity Required approximately
equivalent *
This consumption calculation included in the program contains approximate values based on experiences which might considerably vary upwards and also downwards depending on the structure of substrate, type of tiles, different profiles on the reverse sides, type of tiling tools, work method a.o. Calculations are therefore not allowed to be based on these values. In case of larger projects we recommend to assess the consumption by making a trial surface. Applications in the combined method (buttering-floating) increase the consumption by approx. 20 to 25%. In case of powder products the data relate to the consumption of dry powder for easier calculation of the material requirement.
Building pros also use:
Multi-use flexible joint grout for all tiles and natural stones
Multi-use flexible joint grout especially for vitrified tiles and non-vitrified tiles
Downloads
Declaration of performance EN 15651-1, -2, -3
Sustainability data sheet
Joints just in line with your taste
Classification report EN 13501-1 (E)
Combined with product:
PCI Silcofug® E
UK Declaration of Conformity BS EN 15651-1, -2, -3
Combined with product:
PCI Silcofug® E
Licensing GEV EMICODE (EC1 PLUS)
Combined with product:
PCI Silcofug® E