PCI Nanocret

®

R4 PCC
Heavy-duty repair mortar
for concrete structures on floors, walls and overhead application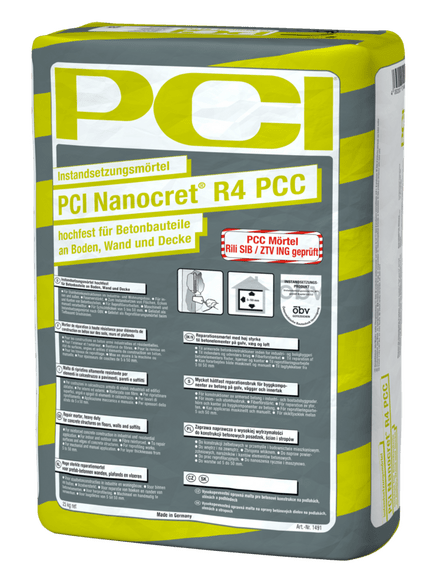 Heavy-duty repair mortar
for concrete structures on floors, walls and overhead application
Areas of application
For indoor and outdoor use.

For floors, walls and overhead application.

Sprayable repair mortar for concrete elements.

Coating mortar for wastewater treatment plants, sewage plants, tunnels, sewers and below-ground construction.

For buildings near the sea or on bodies of water.

For filling spallings and holes in screeds, concrete ceilings, concrete supports and balcony slabs.

For filling duct slits in concrete walls, voids between concrete and steel frames a.o.

For reinforced steel construction in industrial and residential areas.

For leveling treads.

For reworking full-surface concrete components.

For leveling irregular concrete substrates in swimming pools.

For layer thickness from 5 - 50 mm.
Listed as repair mortar in accordance with ÖBV (Austrian Quality Label)
Product features
Good workability, well suitable for smoothing and

reprofiling work.

Reliable adhesion even for overhead application

.

High compressive strength and abrasion resistance, can be

exposed to heavy duty mechanical conditions.

Application is possible by pump and spray gun.

Sulfate resistant against attacks in

sewage application.

Water impermeable up to a pressure of 5 m water column, from 10 mm layer thickness in case of water

pressing from the inside.

Compensates shrinkage, fiber

reinforced.

High resistance to carbonation and chloride penetration.

Certified to EN 1504-3 R4.

Meets the requirements of Rili SIB (guideline for protection and repair of concrete elements) and ZTV ING.

Meets stress class M3 in accordance with the repair guideline.

Meets requirements of DIN 19573.

Listed as repair mortar in accordance with ÖBV (Austrian quality label).

Waterproof, resistant to weather conditions and frost/de-icing salt, multi-purpose use indoors and out.

Suitable for exposure classes X0, XC1-4, XD1-3, XS1-3, XF1-4, XA1-2 and XM1, as described in EN 206 and DIN 1045-2.

Permanently resistant to strong chemical attack of exposure class XWW3, according to DIN 19573.

Fulfills the requirements of the guideline "Preservation of the value of accessible channels of the city of Zurich".
Forms of delivery:
25-kg-bag
Consumption calculator
Your Result
Quantity Required * approx
equivalent *
This consumption calculation included in the program contains approximate values based on experiences which might considerably vary upwards and also downwards depending on the structure of substrate, type of tiles, different profiles on the reverse sides, type of tiling tools, work method a.o. Calculations are therefore not allowed to be based on these values. In case of larger projects we recommend to assess the consumption by making a trial surface. Applications in the combined method (buttering-floating) increase the consumption by approx. 20 to 25%. In case of powder products the data relate to the consumption of dry powder for easier calculation of the material requirement.
Building pros also use: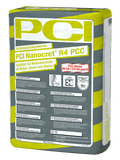 Heavy-duty repair mortar for concrete structures on floors, walls and overhead application
Downloads
Declaration of performance EN 1504-3 (R4)
Sustainability data sheet
Flyer - PCI Nanocret R4 PCC
Classification report EN 13501-1 (A1)
Combined with product:
PCI Nanocret® R4 PCC
Classification report EN 13501-1 (A1fl)
Combined with product:
PCI Nanocret® R4 PCC
UK Declaration of Conformity BS EN 1504-3 (R4)
Combined with product:
PCI Nanocret® R4 PCC