PCI Polyfix

®

plus L
Quick setting cement mortar
for the quick repair in above and below ground situations

Quick setting cement mortar
for the quick repair in above and below ground situations
Areas of application
As waterproofing mortar and for concave moldings.
For setting manhole rings and covers.
For forming impermeable covings, inspection channels and berms.
For closing openings.
For regrouting clinkers in channels.
For building a wall in channels.
For anchoring and fixing steel elements, bolts and step irons.
Multiple use in sewage water and drinking water application as well as in road construction.
For layer thicknesses from 5 to 50 mm, in blended state up to 100 mm.
Listed as reprofiling and construction mortar at Tiefbauamt Graubuenden (Civil Engineering Office in Grisons/Switzerland).
Product features
Fast setting, crack-free curing:
- PCI Polyfix plus after approx. 5 minutes
- PCI Polyfix plus L after approx. 25 minutes
Can be exposed to vehicular traffic after approx. 2 hours.
Can be processed from +1°C.
Easy to apply, time saving, no supporting wedge necessary due to excellent non-sag properties.
To be mixed manually or mechanically.
No primer or bonding agent required.
High compressive strength and bending tensile strength, reliable and stable anchoring.
Waterproof, resistant to weather conditions, frost and de-icing salt, multi-purpose use indoors and out.
Sulphate resistant.
Permanent resistance to heavy chemical attack of exposition class XWW3 to DIN 19573 (tested at ph 4.0).
Chloride free, does not cause corrosion to steel.
Abrasion resistant, meets the requirements as WW grout in accordance with DIN 19573.
Concrete grey color after curing.
Water impermeable from 10 mm layer thickness up to head of water of 5 m.
Waterproofing mortar / mortar for concave moldings in accordance with DIN 18533.
For drinking water application with official test certificate to DVGW worksheet W 347 / W 270.
Certified to EN 1504-3 class R3.
Forms of delivery:
25-kg-bag/ 20-kg-pail
Consumption calculator
Your Result
Required quantity approximately in the middle *
equivalent *
This consumption calculation included in the program contains approximate values based on experiences which might considerably vary upwards and also downwards depending on the structure of substrate, type of tiles, different profiles on the reverse sides, type of tiling tools, work method a.o. Calculations are therefore not allowed to be based on these values. In case of larger projects we recommend to assess the consumption by making a trial surface. Applications in the combined method (buttering-floating) increase the consumption by approx. 20 to 25%. In case of powder products the data relate to the consumption of dry powder for easier calculation of the material requirement.
Building pros also use:
Polyurethane sealant for sewage treatment plants, waterways, bridge construction and sewage systems
Polyurethane sealant for expansion joints in floors exposed to chemicals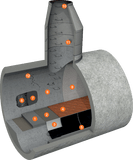 System for setting and installing manhole rings and surrounds and for the refurbishment of walk-in sewers and sewage system structures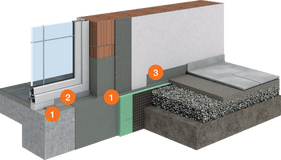 Interface between paving/paving slabs and the building plinth with full-length windows
Downloads
Declaration of performance EN 1504-3 (R3)