PCI Seccoral

®

1K
Flexible waterproofing slurry
under ceramic coverings on balconies, terraces, in shower facilities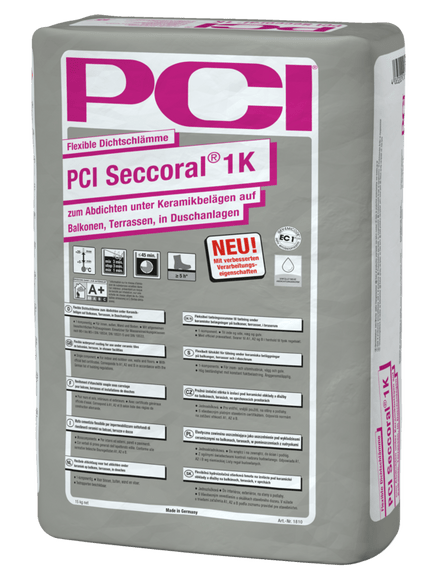 Flexible waterproofing slurry
under ceramic coverings on balconies, terraces, in shower facilities
Areas of application
For indoor and outdoor use.
For walls and floors.
For flexible waterproofing under tiles at cantilever balconies, on terraces, in shower facilities.
For waterproofing solid non-drinking water tanks or swimming pools up to a depth of water of 8 meters.
Suitable for water exposure classes W0-I, W1-I, W2-I, W3-I in accordance with DIN 18534; DIN 18531-5 (e.g. balconies etc.); DIN 18533 (building elements in contact with soil); DIN 18535 (swimming pools and tanks).
For waterproofing in accordance with the Austrian Standard B 3407 exposure classes W1 - W6; in W5 without increased chemical exposure.
For bonding PCI Pecilastic W waterproofing membrane.
For sealing butt joints and connections of the waterproofing membrane PCI Pecilastic W/U.
Can take mechanical loads up to use class III in accordance with the ZDB code of practice "Hoch belastete Beläge" (coverings subject to heavy duty exposure).
With official test certificates.
Product features
Excellent convenient application due to very creamy consistency.
Fast drying, can be tiled after five hours.
Single component, requires on-site mixing with water only.
Crack bridging, highly reliable if cracks in the substrate form at a later stage.
Reliable bond, no special primer or bonding slurry required.
Creamy and workable consistency, easy to apply by brush, roller or trowel.
Frostproof transportation.
Pervious to water vapor.
Can be applied by spray gun.
Low odor and dust.
Very low emissions PLUS, GEV-EMICODE EC 1 PLUS.
Forms of delivery:
15-kg-bag/ 3,50-kg-bag
Consumption calculator
Your Result
Quantity Required approximately
corresponds
This consumption calculation included in the program contains approximate values based on experiences which might considerably vary upwards and also downwards depending on the structure of substrate, type of tiles, different profiles on the reverse sides, type of tiling tools, work method a.o. Calculations are therefore not allowed to be based on these values. In case of larger projects we recommend to assess the consumption by making a trial surface. Applications in the combined method (buttering-floating) increase the consumption by approx. 20 to 25%. In case of powder products the data relate to the consumption of dry powder for easier calculation of the material requirement.
Building pros also use:

Special waterproofing tape system for waterproof corner and perimeter joints, pipe culverts and floor drains
Secure laying system for all tiles and natural stone coverings in outdoor applications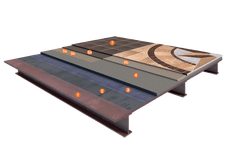 Multi-use, very low-emission laying system for tiles and natural stone coverings on screed
Downloads
Declaration of performance EN 14891 (CM O1P)
Sustainability data sheet
Classification report EN 13501-1 (E)
Combined with product:
PCI Seccoral® 1K
Classification report EN 13501-1 (Efl)
Combined with product:
PCI Seccoral® 1K
MED EC Type Examination Certificate Marine Equipment Directive 2014/90/EU Item No. MED/3.18c
Combined with product:
PCI Nanolight®, PCI Nanofug® Premium, PCI Seccoral® 1K
Licensing GEV EMICODE (EC1 PLUS)
Combined with product:
PCI Seccoral® 1K
UK Declaration of Conformity BS EN 14891 (CM O1P)
Combined with product:
PCI Seccoral® 1K
MED EC Certificate of Conformity Marine Equipment Directive 2014/90/EU Item No MED/3.1, MED/3.13, MED/3.18a, MED/3.18c
Combined with product:
PCI Nanolight®, PCI Novoment® Light, PCI Durapox® Premium Multicolor, PCI Durapox® Premium, PCI Flexmörtel® S2, PCI Nanofug® Premium, PCI Epoxigrund Rapid, PCI STL 39, PCI VG 2, PCI Ocean® Flex PUR, PCI Ocean® Deck, PCI Ocean® Cret, PCI Durafug® NT, PCI Durapox® NT plus, PCI Durapox® NT, PCI Gisogrund® 404, PCI Seccoral® 1K, PCI Periplan® Extra, PCI Novoment® Z1, PCI Novoment® M3 plus, PCI Carraflex®, PCI Carraferm®, PCI Novoment® M1 plus
Declaration of Conformity Marine Equipment Directive 2014/90/EU Item No. MED/3.18a, MED/3.18c
Combined with product:
PCI Nanolight®, PCI Durapox® Premium Multicolor, PCI Durapox® Premium, PCI Flexmörtel® S2, PCI Nanofug® Premium, PCI Epoxigrund Rapid, PCI STL 39, PCI Ocean® Flex PUR, PCI Ocean® Deck, PCI Ocean® Cret, PCI Durafug® NT, PCI Durapox® NT plus, PCI Durapox® NT, PCI Gisogrund® 404, PCI Epoxigrund 390, PCI Seccoral® 1K, PCI Carraflex®, PCI Carraferm®