PCI Silcoferm

®

S
Silicone joint sealant
for multi-purpose indoor and outdoor use
Silicone joint sealant
for multi-purpose indoor and outdoor use
Areas of application
For indoor and outdoor use.
For walls and floors.

Sealing of corner joints, connection joints and expansion joints
Between various structural elements and materials.

Between structural elements and tiles


- in bathroom, shower and toilet,
- on sinks, modular cooking appliances and kitchen worktops,
- on doors, windows and built-in elements in domestic areas.

Between window frames, door frames, shutter boxes and concrete, render or ceramic (cf. IVD (Industry Association for Joint Sealants) leaflet no. 9 – Gun-applied joint sealants in perimeter joints for windows and external doors).

On sheet metal flashings and window ledges or gutters at balconies and flat roofs.

Glass sealing on windows and doors made of aluminium, wood, PVC and Hostalit Z.
Product features
Self adhesive, unprimed adhesion to nearly all absorbent and non-absorbent substrates.
Almost odorless, practically cures without unpleasant odor development, therefore especially suitable for use in closed rooms.
Very low emissions, GEV-EMICODE EC 1 PLUS.
Elastic, capable of absorbing movements up to 25% of joint width (cf. IVD leaflet no. 2 - Classification of joint sealants).
Temperature resistant from -40°C to +165°C, suitable for underfloor heating systems and joints exposed to direct sunlight.
Resistant to weather conditions and UV radiation, therefore ideal for outdoor application.
Resistant to customary household cleaners and disinfectants, joints can be easily cleaned.
Contains fungicides, prevents mould and mildew growth on the sealant.
Tested for decontaminability to DIN 25415-1 (BAM, Federal Institute for Materials Research and Testing).

Meets the hygienic and microbiologic requirements for the use in dust-free rooms (e.g. operating rooms, pharmaceutical industry, chip production) and industrial kitchens.
Test certificates:
- ISO 846 "Mikrobielle Verstoffwechselbarkeit - Methode A und C (RLT-Anlagen)", ILH Berlin Institut für Lufthygiene (Microbial metabolic potential - method A and C (HVAC system)"), ILH Berlin Institute for Air Hygiene)
- practical test "Eignung für Reinräume und Lüftungskanäle (Hygiene)" (suitability for dust-free rooms and air ducts (hygiene)), Hygiene Institute of Ruhr region
- migration with foodstuff, Chemical Laboratory Dr. Stegemann

Tested in accordance with
- EN 15651-1 type F EXT-INT CC Fugen in der Fassade, Klasse 20 LM (joints in the facade)
- EN 15651-2 type 2 Fugendichtstoffe für Verglasungen, Klasse 20 LM (joint sealants for glazing work)
- EN 15651-3 type S Fugen im Sanitärbereich, Klasse XS1 (joints in sanitary areas)
Colors:
transparent, 02 bahama beige, 03 caramel, 05 mid brown, 11 jasmine, 12 anemone, 16 silver grey, 18 manhattan, 19 basalt, 20 white, 21 grey, 22 sand grey, 23 light grey, 31 cement grey, 40 black, 41 dark brown, 43 pergamon, 44 topas, 47 anthracite
Forms of delivery:
310-ml-cartridge
Colors



















Consumption calculator
Your Result
Quantity Required approximately
corresponds
This consumption calculation included in the program contains approximate values based on experiences which might considerably vary upwards and also downwards depending on the structure of substrate, type of tiles, different profiles on the reverse sides, type of tiling tools, work method a.o. Calculations are therefore not allowed to be based on these values. In case of larger projects we recommend to assess the consumption by making a trial surface. Applications in the combined method (buttering-floating) increase the consumption by approx. 20 to 25%. In case of powder products the data relate to the consumption of dry powder for easier calculation of the material requirement.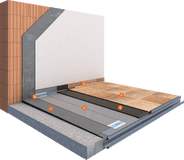 Laying system for all tiles and natural stone coverings in outdoor applications
Laying system for all tiles and natural stone coverings in outdoor applications
Secure laying system for all tiles and natural stone coverings in outdoor applications
Downloads
Declaration of performance EN 15651-1 (F EXT-INT CC), EN 15651-2 (G), EN 15651-3 (S)
Sustainability data sheet
Test report DIN IEC 167 (Isolationswiderstand)
Combined with product:
PCI Silcoferm® S, PCI Carraferm®
Classification report EN 13501-1 (E)
Combined with product:
PCI Silcoferm® S
Licensing GEV EMICODE (EC1 PLUS)
Combined with product:
PCI Silcoferm® S
UK Declaration of Conformity BS EN 15651-1, -2, -3
Combined with product:
PCI Silcoferm® S